Page branding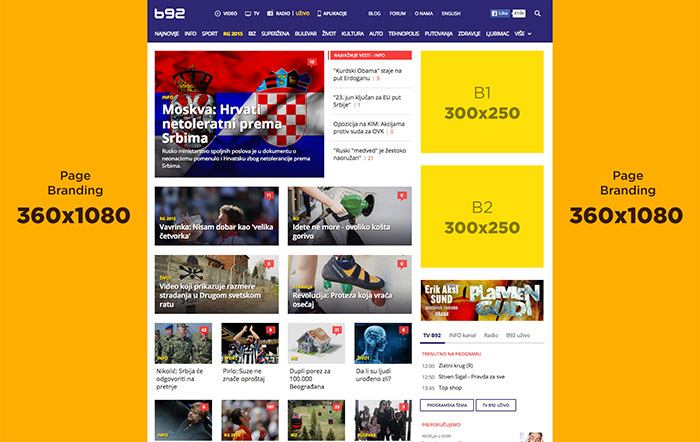 | | |
| --- | --- |
| Website Segment | price/week |
| Homepage | 20.000 eur |
| Biz | 7.000 eur |
| Info vesti paket 1 | 7.000 eur |
| Info vesti paket 2 | 7.000 eur |
| Sport paket | 6.000 eur |
| Sport Home | 5.000 eur |
| Super Žena | 6.000 eur |
| Život | 4.000 eur |
| Automobili | 2.000 eur |
| Putovanja | 1.200 eur |
| Tehnopolis, Zdravlje, Kultura | 1.200 eur |
| Moj kvadrat | 1.000 eur |
| | |
| --- | --- |
| Home of the website | CPM |
| 0 - 500.000 | 18.0 |
| 500.000 - 999.999 | 15.0 |
| 1.000.001 and more | 12.0 |
| | |
| --- | --- |
| Rest of the categories | CPM |
| 0 - 500.000 | 10.8 |
| 500.000 - 999.999 | 9.0 |
| 1.000.001 and more | 7.2 |
1. Image formats for Page Branding area jpg, gif ili png
2. Weight of the image is up to 80 kb each (160 kb both)
3. Image dimensions 360x1080px, advertising message should be 140x420px
4. Images for Page Branding should be delivered at least 2 days before the start of the campaign
5. Photo/s must have the uniform edge!